Where to Hike
Ready to experience the natural beauty of the island on foot ? There are 25 miles of clearly defined footpaths running through the mountains and along the shore, revealing some truly spectacular panoramas.
Anse marcel, Sentier des froussards (2h) : The trailhead begins near the RIU Hotel on the French Side of St. Martin in Anse Marcel, and the best thing about this hike is that no one discovers it by accident and because the hike leads you up and over a hill to a deserted beach, that aspect becomes extremely important.  To find the path you will have to go down through Anse Marcel and the path will be on the right. You walk around Pointe des Froussards, past the beach at Baie des Petites Cayes. Le Sentier des Froussards is a trail that passes along this coast, through maritime woods then down to the beach and around the point. It stretches from Anse Marcel to Cul-de-Sac. Or you hike back to anse Marcel or you make a circle through Cul de Sac.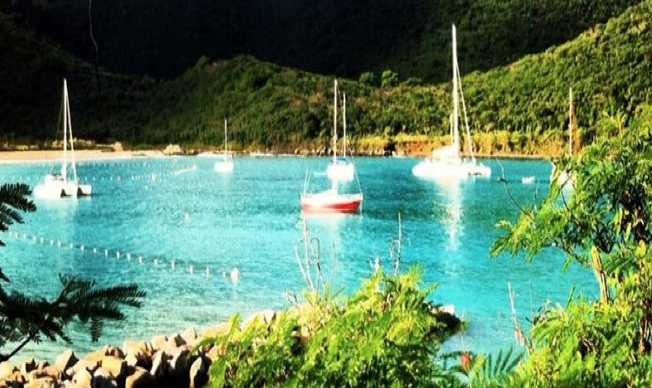 Guana Bay to Natural pool (60 min 2,5km) : At the southern end of Guana Bay beach, follow an unmarked but obvious coastal path. At the foot of the Back Bay rocks, the beautiful natural pools require a stop before proceeding to Point Blanche. The hike is along a cliff, and looks down on waves crashing over jagged rocks– it's ruggedly beautiful; Keep walking, and don't be deterred by the abandoned garbage dump that you'll pass.  It's an eye sore, but the destination compensates for it.  It's roughly halfway to the pool. You'll catch a glimpse of your destination before you reach it.  The waves in this area are high, but a ring of big rocks breaks them outside of this pool.  The pool is perpetually calm and surges only slightly when the waves seep in around the rocks.  The water is clear enough to see bright and colorful little fish that live in the rock crevices.  Bring a mask for a better look.  Be careful scaling the rocks down to the pool, and look out for sea urchins while you're swimming.  Enjoy the clear water while you cool off from the hike.
Pic Paradis via Loterie Farm : You park your car at Loterie Farm and pay 5$ and you hike up to the peak. This 2 hours trail offer amazing panoramic view and is worth it. Tropical jungle, old sugar cane plantation, Chewbacca rock, monkey and iguana are parts of the hike.